Maybe you and your family are brand-new to the Hampton, NH area, or maybe you're feeling unhappy with your current dental office and would like to explore greener pastures. Whatever the case may be, you're ready to begin looking for a trusted oral healthcare home – only to find an overwhelming number of possible options waiting for you when you fill in that search bar. We all have busy schedules, and sifting through dozens of different dental office websites is a big commitment that you probably can't spare time for. Is there an easier way to find the best dentist in your local area?
At Smiles by the Sea Family Dentistry, we understand how difficult this process can be. That's why our team is happy to share some helpful tips below:
Take A Closer Look At The Dentist
Every dental office website should feature a bio for the doctor or doctor(s) at the helm – and the more extensive, the better! Good bios should cover where the dentist went to school, any professional memberships they hold in dental organizations, and advanced training they've undergone in order to further improve their skills. A commitment to continuing education shows that they're serious about offering the highest-quality services possible to their valued patients.
What Dentistry Services Do They Offer?
Consider this – you finally find a dental team that you truly like, only to discover that they don't offer an important service you're interested in. Suddenly, you've had to start the search all over again for a separate specialist. By perusing a practice's list of services ahead of time, you can confirm that they cover all of the options you and your loved ones may need in the near-future. Better yet, a wider range of treatments means that you'll likely be to save hard-earned money and valuable time on traveling to other dental offices, which is good news for sure.
Reviews Can Provide Plenty of Insight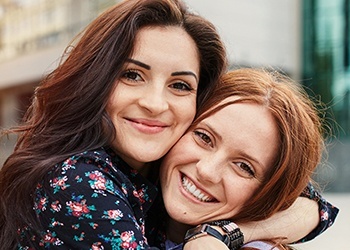 While a dental office can tell you how wonderful they are all day long, these kind words do mean a lot more if they come directly from their patients instead. We encourage you to explore reviews left on Facebook, Google, and other popular sites to gain a more well-rounded picture of experiences at this particular dental office. Did people leave happy? Were they provided with the caliber of care they were expecting? Was the team appropriately warm and professional? You can learn a lot!
At Smiles by the Sea Family Dentistry, we hope you'll keep our family-friendly dental office in mind when looking for a dedicated team who can help everyone enjoy stronger, healthier teeth for years to come. Dr. Shevchenko prides herself on cultivating personal relationships and constantly advancing her skills so that each appointment exceeds expectations. Please contact us today in Hampton, NH to start planning a first visit, or use our convenient online scheduling.
Considerations When Choosing a Dentist
When choosing a dentist, there are several factors one should consider. Obviously, for many people nowadays, proximity to their house, making appointments easy to attend, and the doctor's qualifications are key. If you're looking for a family dentist to care for your entire family, then you'll want a family-oriented practitioner. Additionally, understanding the types of services you require is crucial. Do they offer the services you need?
Finding an Expert in Cosmetic Dentistry
In my city, finding an expert in cosmetic dentistry can be achieved by researching the dentist's name. Perform a Google search and explore their website. Look for reviews and the specific services they offer. If you're seeking a particular treatment, like veneers, check if those services are listed on their website. Patient photos can often be found on their website or Google My Business page, giving you a visual sense of their work. Similarly, YouTube channels or video testimonials might offer further insights.
Steps to Find an Expert in Restorative Dentistry
To find an expert in restorative dentistry in Hampton, search for 'restorative dentists in Hampton, New Hampshire.' You'll likely discover a list of practitioners, often with websites and Google pages. On their website, explore their service categories and see if they align with your needs. Whether it's crowns, composite fillings, or tooth bonding, delve into those areas. Google My Business pages might also contain useful images. Engaging with their YouTube channel, if available, can provide more information. Do thorough research to determine if their approach aligns with your preferences.
Scheduling an Appointment
To schedule an appointment, you can search for 'dentist near me.' Once you've identified a dentist based on reviews, there are several ways to reach out. Call their office directly or visit their website. Many websites have an 'Make an Appointment' button that allows you to provide your information. The office will respond when they're back in operation. Some offices even offer immediate response options. These are all ways to request an appointment.
Your Local Hampton Restorative Dentist
Restorative dentistry involves repairing teeth to their original form and function. This might entail procedures like crowns, veneers, and implants. Crowns can restore broken teeth, while veneers improve appearance. Implants replace lost teeth. Additionally, orthodontic procedures, using clear aligners or traditional braces, can realign teeth.
Your Local Hampton Cosmetic Dentist
Cosmetic dentistry focuses on enhancing your smile's aesthetics. Crowns and veneers can transform the appearance of teeth. Our practice also offers orthodontic services, primarily through clear aligners. These are preferred by many due to their discreteness and ease of maintenance. Our services extend to implant dentistry as well, which provides fixed tooth replacements anchored in the jawbone. These consist of a titanium post, connecting piece, and crown.
Your Local Hampton Orthodontic Dentist
We also offer orthodontics, which involves realigning your teeth. In our practice, we provide this service through clear aligners. The difference between metal braces and clear aligners is that the latter are almost virtually invisible. This is especially advantageous when you're working or during your teenage years, making it much easier to care for them. Many patients appreciate this option because they can remove the aligners, clean their teeth, and floss easily. Maintaining oral hygiene is significantly more manageable compared to traditional braces. This approach is a great way to realign your teeth, and treatment times are typically shorter as well.
Your Local Hampton Implant Dentist
In addition to restorative, cosmetic, and orthodontics, we also offer implant dentistry. This involves replacing a lost tooth in a way that eliminates the need for removable solutions. Instead, the tooth is fixed in your jawbone. Implant procedures consist of three main parts. The first part replaces the root of your original tooth, anchoring into your bone with a small titanium post. This provides a stable foundation. A connecting piece is then added, and finally, a crown is placed on top. This crown can be designed for a single tooth, multiple teeth, or even an entire mouth. We're proud to provide these comprehensive services in our practice.
Contact Us
We hope this addresses your queries. If you're ready to take action or have more questions, feel free to call us at (603) 634-9445. We're here to help you achieve a healthy and beautiful smile.