If you want straight teeth but don't want metal brackets and wires, it's time to find out whether you're a good candidate for Invisalign, the orthodontic alternative to conventional metal braces for both adults and teens. Smiles by the Sea family dentistry in Hampton, NH, is home to experienced, certified Invisalign providers and highly skilled dentists who can create the flawless smile you've always wanted.
How Invisalign Works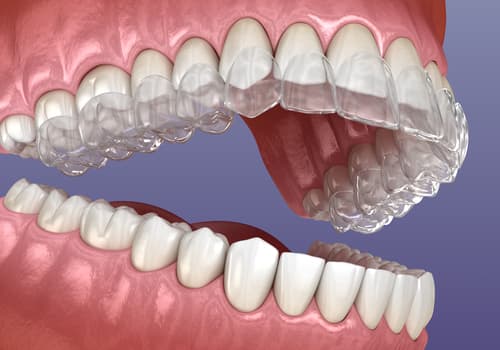 Invisalign can correct almost every alignment problem that metal braces can fix, and it gets the job done discreetly and much faster than conventional braces. Whether your teeth are crowded, crooked, gapped, or otherwise out of place, you can have an aligned smile in an average of 12 months, though some cases will take less time and others will take a little longer.
Here's how the nearly invisible aligners work:
Tooth crowns and roots are moved simultaneously
Teeth are shifted a few at a time until the entire mouth is in alignment
Movements are gentle and consistent
Before a patient can qualify for Invisalign, they must undergo a thorough examination to determine if they are a good candidate for this treatment. A careful review of your teeth and bite and 3D images will inform your dental provider and make it clear whether you would benefit from this orthodontic device. If so, a complete, customized treatment plan will be developed and you will be issued a series of custom-crafted aligners made from durable, clear plastic that fit snugly against your teeth.
How Long Will Invisalign Treatment Last?
Average Invisalign time commitment is one year, but every patient is different. Here are some of the basic factors that affect how long a patient must wear Invisalign:
Patients with minor gaps or a relapse from braces worn in the past may need only six months of Invisalign.
The teeth of teen patients may move more quickly than an adult's teeth. This may or may not affect timeline, depending on the dentist's plan.
Patients with severe crowding or other complex issues may have treatment that goes beyond one year.
Anyone who doesn't wear their trays as instructed will fall out of compliance and treatment could take much longer than originally anticipated.
The Rules of Wearing Invisalign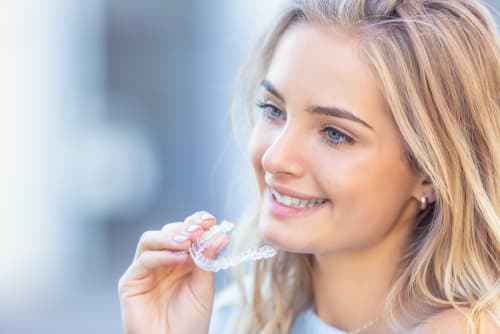 Half of the success of Invisalign is a patient's dedication to their treatment and willingness to wear the trays as indicated by your Hampton dental provider. Here are your responsibilities:
Wear the trays 20 to 22 hours a day
Remove Invisalign for all meals and snacks
Drink only water when Invisalign is in place to avoid staining
Clean trays and teeth before putting Invisalign back in place
Change aligners about every two weeks, or per your provider's instructions
See your Hampton dentist every six weeks for a check-up and to collect new sets of trays
The success of Invisalign is fully dependent on a patient's adherence to the rules. If you wear your trays as indicated, clean them carefully, and change them as instructed, your treatment should progress flawlessly.
Tips for Managing the Invisalign Time Commitment
The instruction to wear Invisalign 20 to 22 hours a day is not arbitrary. It's incredibly important for the trays to be on your teeth for as long as possible every day. And think about it – in a year, maybe even less, you'll have a straight, healthy smile.
To help you manage this timeline, make good use of your mobile devices:
Set a timer for every meal for 20 to 30 minutes. It's easy to get caught up in meal conversation with others and forget to put your trays back in place.
Set alerts to clean your trays day and night and after meals.
Set reminders to change out your trays with the newest set of aligners.
Add your dental visits to your calendar and make sure reminders pop up.
Benefits of Invisalign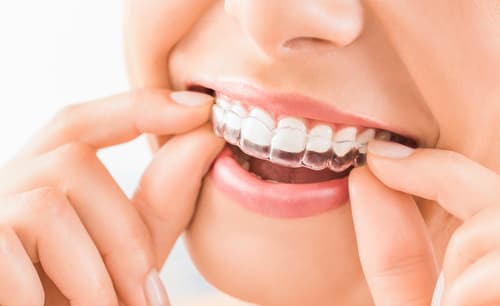 Invisalign is a form of orthodontics, so the wearer will certainly feel pressure and discomfort from time to time as teeth shift in your mouth. Those trays are doing hard work to move your teeth into alignment. Because of how Invisalign works and looks, though, you will discover many benefits of this treatment:
Discreet: Whether you're an adult going to work every day or a student going to school, you won't have to worry about Invisalign drawing attention. The trays are subtle, slim, and unnoticeable. Your confidence will never falter and, in fact, will only grow as your teeth become straighter.
Removable: You are obligated to wear your trays nearly around the clock, but when you want a break from your treatment, you can take it. The clear aligners are removable, which also means you can clean your teeth easily and enjoy all your favorite foods without restrictions, unlike the journey wearers of conventional braces experience.
Comfortable: No brackets or wires means nothing jagged or sharp poking into your lips, gums, or cheeks. These dental trays are smooth and secure.
Are You a Good Candidate for Hampton Invisalign?
Both adults and teens can qualify to wear Invisalign. If you want straight teeth, but you don't want your orthodontics to interfere with your lifestyle, this orthodontic device can be the answer. Schedule a consultation at Smiles by the Sea in Hampton to find out whether this modern method of straightening teeth is right for you.