If you're unhappy with the way your teeth look or function, it's time to think about a teeth makeover. The customized dental care from Dr. Harbpinder Shevchenko and her team at Smiles by the Sea in Hampton, NH, is designed to give you the smile you want and the teeth you're proud of, whether you need cosmetic dentistry, restorative dentistry, or both.

Problems Fixed by a Smile Makeover
Your Hampton dentist can fix everything you dislike about your smile, but it's up to you to reach out and ask for help. Everyone has their own unique complaints and concerns about their teeth, but some of the most common issues that people want to fix through a smile makeover include:
Stains and discoloration
Misalignment
Old dental work
Gummy smile
Short teeth
Narrow smile
Broken or chipped teeth
Crooked teeth
Gapped teeth
Silver fillings
Missing teeth
Your smile is the focal point of your face, and it is so important for you to feel good about this major feature. Just one small change can be the difference between low self-esteem and amazing confidence.
Improve How Your Teeth Feel and Function
A teeth makeover doesn't always have to change the appearance of your teeth, but it can make your mouth feel a whole lot better with treatments like:
Invisalign: When your teeth are misaligned, they can cause a lot of oral health problems, difficulty eating, and pain. With a discreet treatment like Invisalign, you can shift your teeth gently but consistently into alignment, a procedure that takes about a year to complete and leaves you with healthier, better-working, better-looking teeth.
Night guard: A customized night guard prevents the negative side effects of grinding and clenching your teeth to protect you from headaches, enamel erosion, gum recession, damaged dental work, and broken or cracked teeth.
Gum disease treatment: Feel like things aren't quite right in your mouth? You could be suffering from any stage of gum disease. Getting this problem repaired as soon as possible relieves you from pain and prevents damage to your teeth.
Transform the Appearance of Your Teeth Almost Instantly
Sometimes you want a teeth makeover and you want it now. This kind of impatience can be indulged with modern cosmetic dentistry. The following treatments can transform your smile in just one dental visit:
Teeth whitening: Professional teeth whitening treatments make a major impact on your appearance right away. The bleaching agents are powerful and dramatic, giving you teeth that are multiple shades whiter in just one hour. Even if your teeth aren't perfect, this smile makeover will create the illusion of perfection.
Same day crowns: Have you decided that problem tooth must go right now? If you're impatient about getting a solution, same-day crowns are available through your Hampton dentist thanks to the sophisticated in-office CEREC machine that creates a customized restoration for you on the spot.
Dental bonding: Want to fix a tiny spot, a little chip, stains or discoloration? Dental bonding is a fast, non-invasive dental treatment that only takes about 30 minutes per tooth to apply. If you're ready to make a long-overdue transformation, dental bonding can get the job done.
Take Time to Get a Stunning Teeth Makeover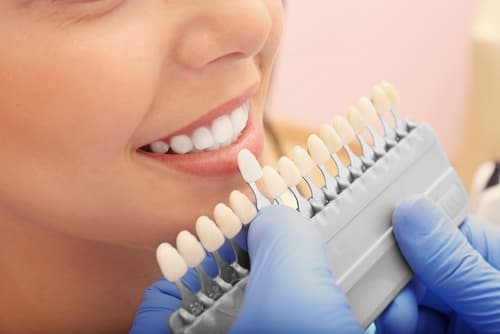 A teeth makeover can look however you want it to because it is always personalized to your unique oral health needs. You have many cosmetic dentistry options when it comes to changing the look of your smile – the only prerequisite is that you have healthy teeth and gums to build that new smile upon. Some of the most common teeth makeover treatments include:
Porcelain veneers: This versatile, customized solution s made of super-thin porcelain shields that conceal everything you dislike about the appearance of your teeth. Veneers are carefully crafted in size, shape, color, and length to blend in with your skin tone and face shape and they are designed to create flawless symmetry across your entire smile.
Tooth-colored fillings: Fillings can do so much more than just repair cavities. If you have a tooth that is cracked or chipped, if you have gapped teeth or silver fillings, these composite fillings are the right alternative to give you a stronger, healthier restoration that completes your smile and improves how it looks.
See Your Smile Makeover Before It Comes to Life
Wish you could see your new smile before you hit the green light on a smile makeover? Virtual Smile Design makes it possible. One picture of your smile can be digitally edited to reflect how a cosmetic dentistry procedure will change its appearance.
Virtual Smile Design is also a great way to test out a few different treatments in case you're having trouble choosing between them. Get a good look at yourself with porcelain veneers, teeth whitening, or other procedures and feel comfortable with the amazing results before you proceed with any changes.
Get a Smile Makeover from Your Hampton, NH, Dentist
Every cosmetic dentistry makeover begins with a dental exam and conversation with your dentist to ensure that you are a good candidate for the procedures that interest you. Know that if there is gum disease, decay, or other infections present, these matters will need to be addressed before your smile can be beautified. It's essential to have a solid foundation before trying to build a smile makeover.
Know this though: No matter what condition your oral health is in, you can have a beautiful smile. It may take patience, it may take several dental procedures, but everything that's wrong with your teeth and gums can be corrected so you have a healthy, strong, beautiful, pain-free smile.
Contact Smiles by the Sea in Hampton to schedule your consultation with Dr. Shevchenko and discuss your smile makeover.