Straighten Your Smile Seamlessly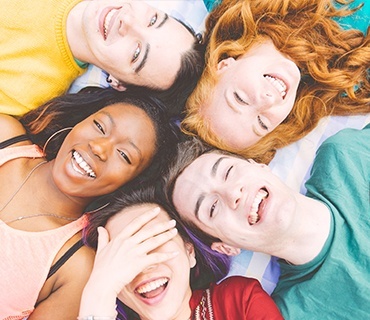 If you're like many adults, you'd love to straighten your teeth, but you're not willing to get metal braces to do it. Thankfully, you no longer have to! Invisalign Clear Braces are an alternative orthodontics treatment option that prioritizes natural appearance and convenience for image-conscious patients.Contact Smiles by the Sea Family Dentistry in Hampton, New Hampshire today to schedule a consultation and see if your smile is the right fit for Invisalign. We're also happy to address any questions or concerns you may have.
Why Choose Smiles by the Sea Family Dentistry for Orthodontics?
Highly-skilled & experienced dentist
Invisalign: Straighter teeth without metal braces
Perfect for both teens and adults
How Do Invisalign Clear Braces Work?
Instead of wires and brackets, patients will be provided with a series of aligners that are custom-crafted from clear, durable plastic. Each aligner represents a different stage of your teeth as they're gradually guided towards the desired positions. The patient wears each aligner as directed (usually for a few weeks at a time) before switching to the next set in their series. The aligners should be kept in the mouth for at least 22 hours each day so that they're as effective as possible.
What are the Benefits of Invisalign?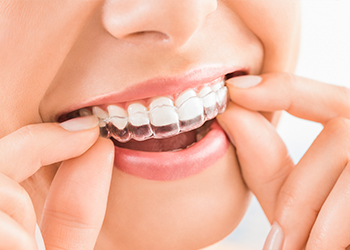 As the name suggests, Invisalign aligners are subtle enough when worn that virtually no one around you will even notice them. This means you can keep smiling confidently!
The aligners are also 100% removable. Patients are able to continue eating favorite foods and practice oral hygiene like normal throughout the treatment process.
The clear plastic structure of the aligners is very comfortable and secure in the mouth. There are no poking wires to worry about!
Invisalign treatment typically takes anywhere from 8 to 18 months, which is much quicker than the multiple years of commitment traditional braces often require.
Six Month Smiles
Do you want a more attractive smile but don't want to spend years undergoing orthodontic treatment? Six Month Smiles may be perfect for you. Like traditional braces, Six Month Smiles uses brackets and wires to straighten teeth. However, the average treatment time is only six months! Plus, the brackets and wires are extremely discreet, so you won't have to worry that your treatment will call a lot of attention to itself.
Learn More About Six Month Smiles