Invisalign may seem like a simple method for aligning teeth – get clear aligners, wear them, get a straight smile – but this sophisticated, customized treatment involves plenty of details. At Smiles by the Sea in Hampton, NH, Dr. Harbpinder Shevchenko, a certified Invisalign provider, makes sure each of her patients understand the facts about this orthodontic alternative.
All the Numbers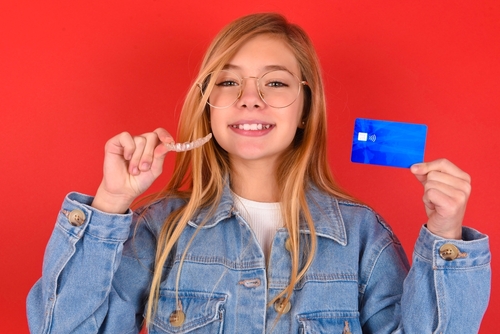 There are many numbers surrounding Invisalign treatment, and all of them matter. Here is what every patient needs to know:
1 year: Most Invisalign treatment takes an average of 12 months to complete. Some patients require more time, others need only 6 months or so. It depends on the complexity of the case and how well patients adhere to the rules.
2 weeks: Every set of aligners is worn for about 2 weeks before switching to the next set. This allows for the gentle but consistent movement of all tooth roots and crowns until they are in full alignment.
20 to 22 hours: Trays must be worn for the bulk of each day so the treatment is effective. Trays should only be removed for about three hours total for meals, snacks, and cleaning.
6 to 8 weeks: You will visit your Hampton Invisalign provider every six to eight weeks for a checkup on your progress and to collect your next sets of trays to further your treatment.
All the Benefits
From adults to teens, the people who are interested in Invisalign are already aware of many of the treatment's benefits. Here's a grouping of some of the best perks:
Discreet: Patients who want straight teeth are very interested in Invisalign because of the clear, thin trays that fit snugly to their teeth and don't interrupt their life, work, or play.
No food restrictions: If you remove your trays first, you can eat whatever you want, unlike traditional braces wearers who have multiple eating restrictions to avoid damaging brackets and wires.
Works for teens and adults: Teens are thrilled to have a discreet orthodontic treatment specially designed for them, and adults are delighted to have braces that don't interfere with their job or social life.
Easy to clean: Wearers don't need any special tools to keep their trays clean and fresh. Just brush and soak to keep the trays clear and odor-free.
Comfortable: Invisalign trays are smooth, which means there won't be any brackets or wires to poke or jab the soft tissues of the mouth.
All the Cost Factors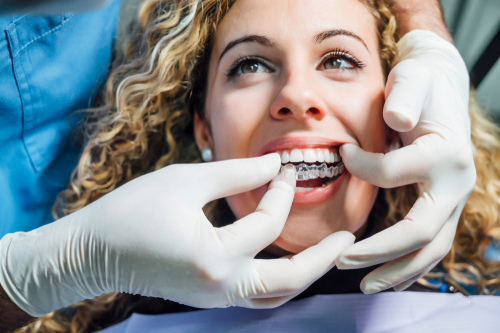 No matter what type of cosmetic dentistry you undergo, the treatment cost factors will vary based on your unique oral health and misalignment. One of the first questions every patient who is interested in Invisalign asks is, "How much does Invisalign cost?" There are plenty of answers to this question, and the certified Invisalign providers and team at Smiles by the Sea in Hampton, NH, will work out the final numbers for this advanced and customized dental treatment so it's affordable for your budget and absolutely worth your investment.
The short answer about the cost of Invisalign is between $3,000 and $7,000. This range is wide and different for every patient because there are several factors that affect the final cost:
How complex the treatment is: Invisalign can do pretty much everything that conventional braces can do, from closing gaps to fixing crowded teeth, correcting overbites to realigning underbites. The more complex a case, the more trays and time will be needed to get teeth into position and the higher the cost will be.
How long treatment takes: Your Hampton Invisalign provider will create your treatment plan from start to finish before your first trays are even on your teeth, so you will know right away how long treatment will take. The more time it takes to straighten your smile, the more aligners you will need and the longer treatment will be.
The age of the patient: There is Invisalign and Invisalign Teen. Treatment works the same for all patients, no matter the age, but teenagers have some special considerations – like wear indicators on their trays and tooth eruption tabs – that may impact the bottom line.
Compliance with the rules: If you don't wear your trays 20 to 22 hours a day, if you remove them too often or leave the aligners out, and if you lose your trays or break them, you're in danger of non-compliance. While a few extra trays are built into the cost of your treatment, you can't keep breaking them and asking for replacements without incurring a cost.
Your provider's experience: You want to choose a provider who has treated hundreds of patients and has the knowledge and ability to create a plan that is cost-effective. Your Hampton Invisalign provider's level of experience as well as their location factor into the final Invisalign cost.
Benefits That Make the Invisalign Cost Worth It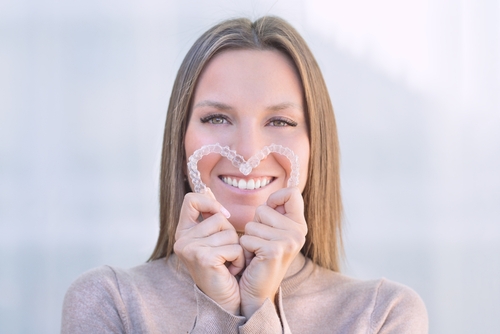 The Invisalign costs can seem daunting at first but, broken down over time, they're manageable and make sense. It's important too to remember that you're not only paying for the clear aligner treatment you're getting now, you're paying for a healthy dental future.
Here are just some of the benefits that make the cost of Invisalign completely worth it:
Trays are thin, clear, and nearly invisible on the teeth.
The aligners are removable so you can occasionally take a "break."
Trays are removed for all meals and snacks so you don't have any food restrictions.
Straight teeth are easier to brush and floss and better oral health means a lower chance of decay or infections.
The All-Inclusive Invisalign Costs
Your Hampton dental office will lay out the specifics of your treatment and the associated costs so you will know what to expect throughout your treatment. What comes in the all-inclusive, comprehensive Invisalign cost?
Dental exams
Office visits
Digital imaging
Impressions
Dental lab work
Aligners
Cases
Attachments
Retainers
Talk About Invisalign Costs with Your Hampton, NH, Dentist
Invisalign is a smile makeover solution that is viable for so many patients. Just schedule a consultation with your Hampton dentist and find out if you're a good candidate for the treatment. Be open about your smile goals, your budget, and ask all the questions you have about the Invisalign lifestyle. Smiles by the Sea offers multiple payment options to make Invisalign affordable to everyone, including CareCredit and Alphaeon financing options.