The Fast Track to a Straighter Smile
The average treatment time with traditional braces can be anywhere from one to three years. That can seem like forever. Wouldn't it be nice if there was an accelerated way to get the straight, attractive grin you've always wanted? You might be a candidate for Six Month Smiles! This fast orthodontic treatment is specifically designed to help adults who want to achieve a straighter smile as quickly as possible.
How Does Six Month Smiles Work?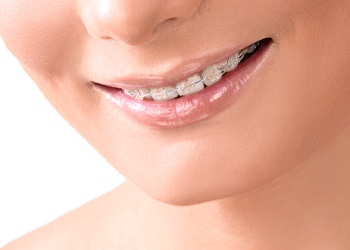 Six Month Smiles in Hampton is similar to traditional braces in a number of ways. It uses brackets and wires to apply gentle pressure to the teeth, thus repositioning them over time. The biggest difference between Six Month Smiles and traditional orthodontics is treatment time. As its name implies, the average treatment with Six Month Smiles is half a year. Some patients achieve results in as little as four months, while others may need to wear their braces for up to nine months.
The secret to Six Month Smiles' speed is that it focuses mostly on the front teeth — the teeth that are visible when you smile. Its purpose is primarily cosmetic, so it is particularly appropriate for patients hose main treatment goal is to feel great about what they see in the mirror.
What Advantages Does Six Month Smiles Offer?
Of course, the biggest advantage of Six Month Smiles is the fast treatment time. You may be able to achieve your dream smile in time for your wedding, graduation, or other big upcoming event. Additional benefits include:
The last thing you want is for your braces to call a lot of attention to themselves. That is why Six Month Smiles uses clear brackets and tooth-colored wires.
In most cases, Six Month Smiles costs less than traditional orthodontics. Our team will be happy to work with you to explore how you can fit your new smile into your budget.
You might experience a bit of soreness as your teeth are moving into their proper places. However, you can expect your overall experience to be quite comfortable.
What Is the Process Like?
If you're interested in Six Month Smiles, schedule a consultation with your dentist in Hampton. Dr. Shevchenko will evaluate your orthodontic issues to determine if you are a candidate for the treatment. If all of your permanent teeth have erupted, and you have mild dental misalignment in the front of your mouth, it is likely that Six Month Smiles will work for you.
After your braces are in place, you'll visit our office periodically to get the braces tightened. Most individuals need three to seven adjustments throughout their treatment period. When you're wearing Six Month Smiles, you'll need to be diligent about oral hygiene and be careful about what you eat so you won't inadvertently damage your teeth or your braces. Once our dentists takes your braces off, you'll need to wear a retainer to make sure your teeth don't drift back out of place.
Are you ready to own a straighter, more attractive smile? Contact us today to schedule your Six Month Smiles consultation.