Reliable and Effective Way to Restore Smiles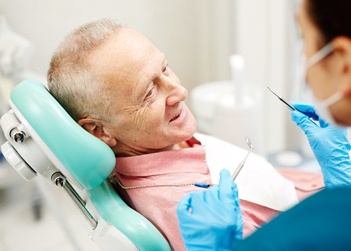 For hundreds of years, people have found dentures to be an effective way to restore the look of a smile. Thankfully, advancements in dentistry and technology have made it possible so these prosthetics are much more comfortable and easier to wear. At Smiles by The Sea Family Dentistry, our team of experts believe partials and dentures in Hampton remain one of the safest and most reliable forms of tooth replacement available, which is why you can trust that should you fall victim to missing teeth, you can achieve a beautifully restored smile in no time at all. Contact us to schedule an appointment and learn more about the convenience of dentures.
Why Choose Smiles by The Sea Family Dentistry for Dentures and Partials?
Personalized care and treatment plan for every patient
Custom-made, durable prosthetics
Expert dental professionals to restore your smile
Who is a Good Candidate for Dentures?
To be considered a viable candidate for dentures, you must:
Have experienced significant tooth loss (multiple or all your teeth along an arch)
Have a sufficient amount of healthy gum tissue
A jawbone that is somewhat healthy and strong
If you are seriously considering partial or full dentures to replace your missing teeth, you should also know it is a much more affordable option than other tooth replacement solutions.
What Are the Differences Between a Full and Partial Denture?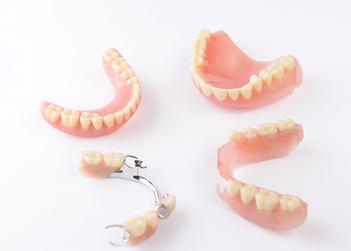 A full denture uses a gum-colored base and artificial teeth to fill in the lower or top arch of your mouth. When losing all your teeth, full dentures make it possible to see a fully restored smile. Your natural suction holds them in place, but dental adhesive can be used to provide added security.
A partial works like a puzzle piece in that it fills in the gaps. If you are missing a few non-consecutive teeth along an arch, a partial can be created using the same gum-colored base and artificial teeth. Instead of relying on your natural suction though, partials have clasps or clips that are attached to your natural teeth to hold it in place.
Both partials and full dentures are custom-made using impressions of your smile. This helps to ensure your denture fits comfortably when placed.
What Are the Benefits of Traditional Dentures?
Affordability: Traditional dentures and partials are considered more affordable than other implant-based tooth replacements.
Natural Look: Nowadays, dentures are made with ceramic teeth and are affixed to an acrylic, gum-colored base, making them more natural in appearance.
Functionality: While wearing dentures, you will be able to eat, chew, and speak with clarity and without worry.
What Are Implant-Retained Dentures?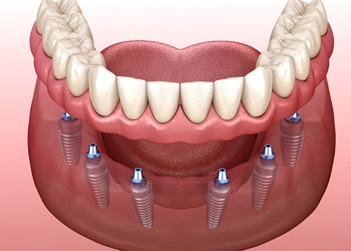 For patients who desire a more stable and longer-lasting restoration, implant-retained dentures are an alternative solution. Another more expensive, this restoration uses multiple dental implants, which are surgically placed into the jawbone. Once you are fully healed, a custom-made denture is snapped into place, creating a fully restored smile from the root up. Not only will you have the appearance of a natural smile, but your oral health will improve because of the implants continually stimulating your jawbone.
What Are the Benefits of an Implant-Retained Denture?
Improved functionality while eating, speaking, and chewing
A longer-lasting restoration that is designed to last for 30+ years or more
No restrictions when it comes to foods you enjoy
No chance for decay
Improved oral health because of continual jawbone stimulation
Restored bite strength
Greater appearance and boost in confidence level
Easy to clean and maintain with regular visits to see your dentist in Hampton, New Hampshire