Many adults want straight teeth. They dream of that perfectly aligned smile, but they have never pursued it because they don't want to sport metal braces. Invisalign for adults has changed these circumstances for millions of people, offering a discreet orthodontic alternative that uses clear aligners to straighten teeth. At Smiles by the Sea in Hampton, NH, Dr. Harbpinder Shevchenko is a certified Invisalign provider and prepared to create a customized treatment plan that works for your lifestyle.
A Reasonable Invisalign Schedule
Adults don't have a lot of spare time and you may not be interested in filling what little free time you have with yet another responsibility. But braces of any kind require your regular attention, though some are far less demanding than others.
Here is the kind of time commitment you can expect with Invisalign for adults:
Dental visits: You will need to see your Invisalign provider every six to eight weeks for a checkup and to collect your next sets of aligners.
Daily wear: Trays must be worn 20 to 22 hours a day and are only removed for meals, snacks, and cleaning.
Bi-weekly wear: You will be instructed to change out old trays for new ones approximately every two weeks. Each set of aligners is designed to move certain teeth at certain times to achieve complete alignment.
Overall: The average Invisalign treatment takes about one year to complete, but it could take less time for simpler cases or more time for complex misalignment.
Benefits of Invisalign for Adults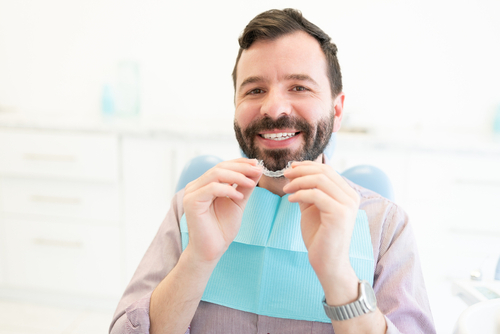 Invisalign is a worthwhile investment in yourself and your current and future oral health. When you compare the demands of Invisalign for adults with the dividends it delivers, there really is no good argument against this treatment and what it can offer.
Discretion: If you're anti metal-mouth, have no fear – Invisalign for adults is clear. The trays are very difficult to see on the teeth because they are colorless and super thin. No one will know you're wearing Invisalign at work, in photos, at home, or anywhere.
Comfort: Traditional braces involves brackets and wires, which often snag and poke sensitive lips and cheeks, but Invisalign trays are smooth. There is a little pressure with all braces because they are moving teeth after all, but you'll adjust to the sensation quickly.
No food restrictions: Unlike braces-wearers, Invisalign for adults allows the wearer to eat whatever they want whenever they want simply by removing their trays. Just make sure they aren't out of your mouth for more than three to four hours a day.
Easy cleaning: Being able to continue brushing and flossing your teeth as normal is a big deal, just ask anyone with brackets on their teeth. The only extra job you have to do is clean your trays to keep them clear and odor-free.
Healthier teeth: Straight teeth are healthier teeth. It's easier to clean in all the nooks and crannies, which means a lower chance of tooth decay, infections, gum disease, or other oral health problems.
Invisalign for Adults from Hampton Dentist Near Me
If you are ready to learn more about Invisalign and find out if you're a good candidate for this procedure,contact your Hampton dentist and certified Invisalign provider at Smiles by the Sea. This high-performing treatment has made a straight smile possible for so many adults, and it begins with a dental exam and digital imaging to review your teeth and their potential.